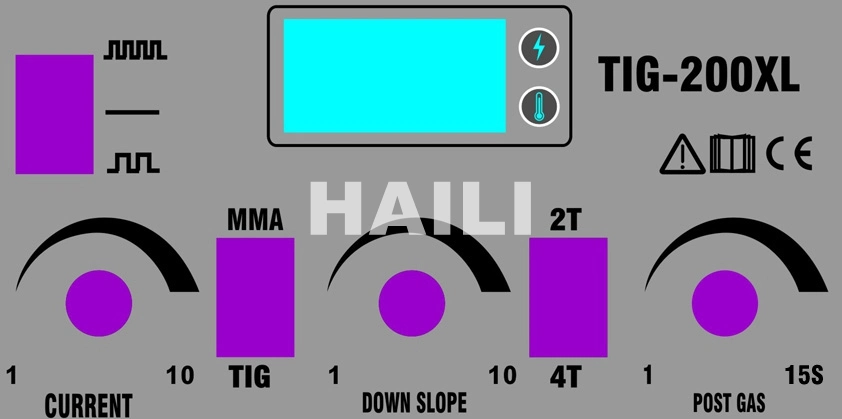 Features:
1), Adopt advanced
IGBT
inverter technology
and
Three PCB structure with high duty-cycle
.
2). Suitable For
TIG/MMA Welding, with switch for 2T/4T
suitable for different welding mode.
3
).
High-Low frequency
pulse can be selective.
4
)
,
Post gas time can be adjusted to
better welding performance and save gas.
5
)
,
Down Slope current can be adjusted to
get more stable arc-ending
6). High efficiency, low consumption, energy saving, more attractive design.
7). Stable performance, with strong compensation capacity, resistant to voltage fluctuation.
8). Easy for arc starting, stable current, the first choice for welding thin plate.
9). Be able to weld all kinds of material, such as stainless steel, copper, nickel, alloys.
Model
TIG-160XL
TIG-180XL
TIG-200XL
TIG-250XL

Order Code

HL-2471XL

HL-2472XL

HL-2473XL

HL-2474XL

Input Voltage(V)

220-240V

220-240V

220-240V

220-240V

Frequency (Hz)

50/60

50/60

50/60

50/60

Rated Input Capacity (KVA)

3.3

3.9

6.3

8.5

Current Range (Amp)

10-160

10-180

10-200

10-230

No-Load Voltage(V)

56

56

56

68

Duty Cycle (%)

60

60

60

60

Protection Class

IP21S

IP21S

IP21S

IP21S

Insulation Class

F

F

F

F

Power Factor

0.93

0.93

0.93

0.93

Weight (KG)

10

10

10

11

Usable Electrodes(mm)

1.6-3.2

1.6-3.2

1.6-4.0

1.6-5.0

Dimensions (MM)

410 *160*305

410 *160*305

410 *160*305

410 *160*305

Accessories

TIG Torch with 4m cable, Electrode Holder with 2M Cable,




Earth Clamp with 2M Cable, Welding MASK, BRUSH.

MOQ
100Pcs
100Pcs
100Pcs
100Pcs
Price